Regular price
$399.99 USD
Regular price
Sale price
$399.99 USD
Unit price
per
Sale
Sold out
It's simple, flexible and easy to install to protect your home or properties for any season, even a hurricane! 
Looks best on homes with flat exterior surfaces such as Stucco.  Performs well on most common exterior surfaces, including stucco, brick, vinyl or wood siding.

Max Window Size: Actual Screen Sizes:
37" x 63": 43" x 69"
37" x 18.5": 43" x 24.5"
37" x 38": 43" x 44"
37" x 50": 43" x 56"
37" x 72": 43" x 78"
37" x 76": 43" x 82"
27" x 38.375": 33" x 44.375"
27" x 63": 33" x 69"
19" x 30.375": 25" x 36.375"
19" x 63": 25" x 69"
53" x 76": 59" x 82"
53" x 72": 59" x 78"
53" x 63": 59" x 69"
50" x 30": 56" x 36"
36" x 36": 42" x 42"
Materials

Polypropylene with UV inhibitor in
each strand with a 5-year limited warranty against any fabric degradation
Warranty

The Simply Smart All Weather screen comes with a limited 5 year warranty and is manufactured by Storm Smart.

This warranty specifically applies to products under normal use and service, subject to the conditions and limitations herein listed, and is for the original owner. This warranty is only valid if proper maintenance and care is documented and provided by the end user.

This warranty covers only those manufacturing and material defects as specified herein and does not include defects attributable to improper use, maintenance, or installation; normal weathering; highly corrosive environments; defects or damage caused by misuse, abuse, neglect, alterations, accident, fire, flood, acts of God, water intrusion caused by wind-driven rain due to high wind events, vandalism, riot or civil disorder, improper installation, repairs or alterations made to the original product, building settlement or structural failures of walls or foundation or occurrences beyond Storm Smart's control.

STORM SMART'S LIABILTY UNDER THIS WARRANTY SHALL BE LIMITED TO THE REPAIR, REPLACEMENT OF, OR A REFUND FOR NONCONFORMING SCREEN OR TRACK, AT STORM SMART'S OPTION. STORM SMART SHALL NOT BE RESPONSIBLE FOR ANY INCIDENTAL OR CONSEQUENTIAL DAMAGES THAT MAY ARISE OUT OF A CLAIM FOR BREACH OF THIS WARRANTY.
Care Instructions

Storm Catcher Slide Screens should be washed with fresh water and lubricated at least two (2) times per year. Begin with sweeping the shutters free of any obvious debris. Using a sponge; clean the shutter with a solution of one cup mild detergent with one cup household non-toxic cleaner and three (3) gallons of warm water. Follow by rinsing with clean water and wipe dry with soft cloth.
Share
View full details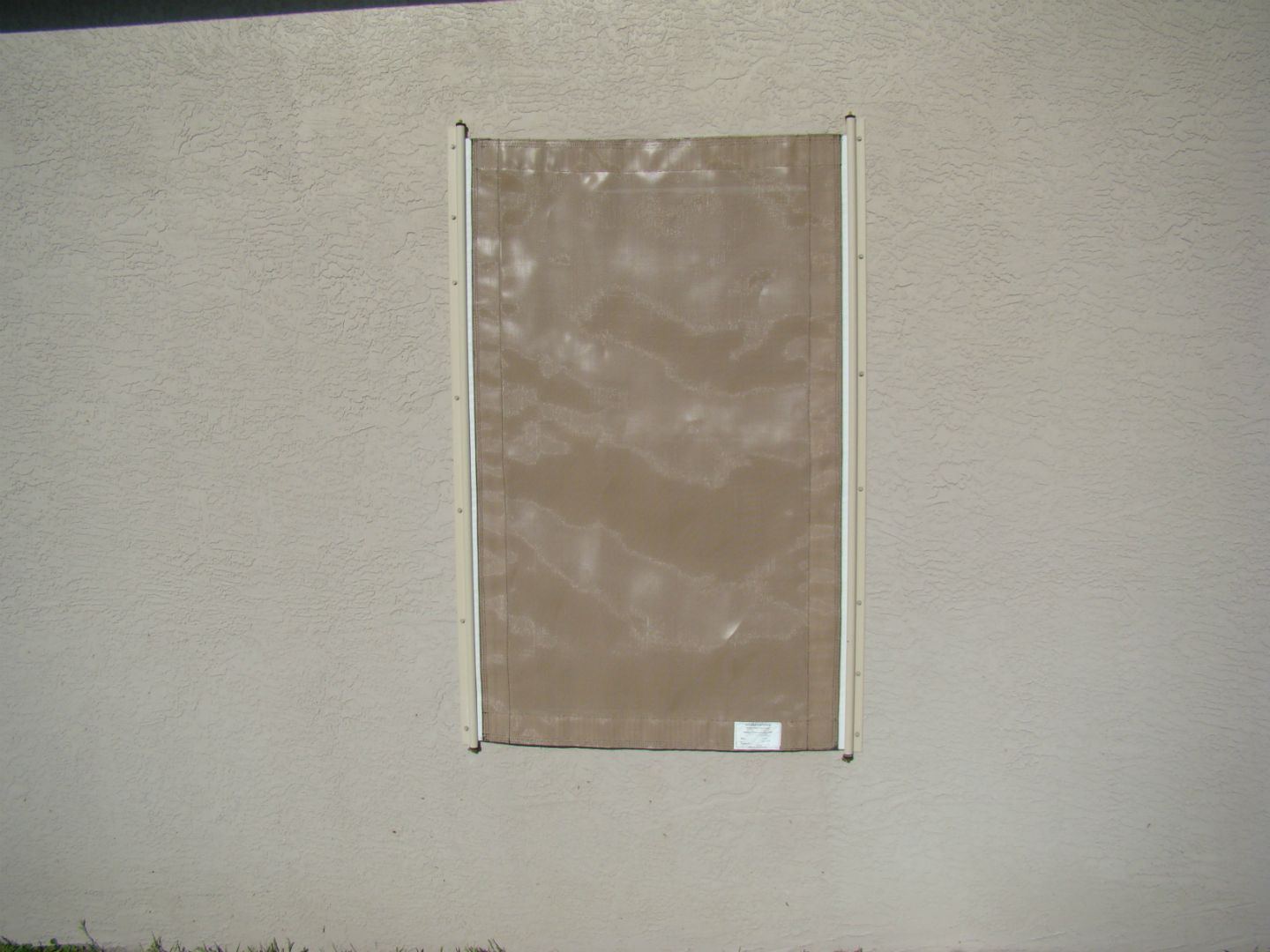 Effective Performance

The tightly woven monofilament fabric of the screen is formulated to reduce wind velocity by up to 95%. Even gusts of up to 150 mph are no match for Simply Smart Screens, which will reduce these violent blasts to mere whispers.

Easy Deployment

Simply Slide Screens are one of the most easily deployed of the series. Simply slide the mesh into low-profile tracks and secure in place with fasteners.

Translucent Design

Our hurricane screens will allow natural light to enter your home, sparing you the feeling of living in a bunker. And you'll be able to see out so that you can keep an eye on what's going on outside your home.